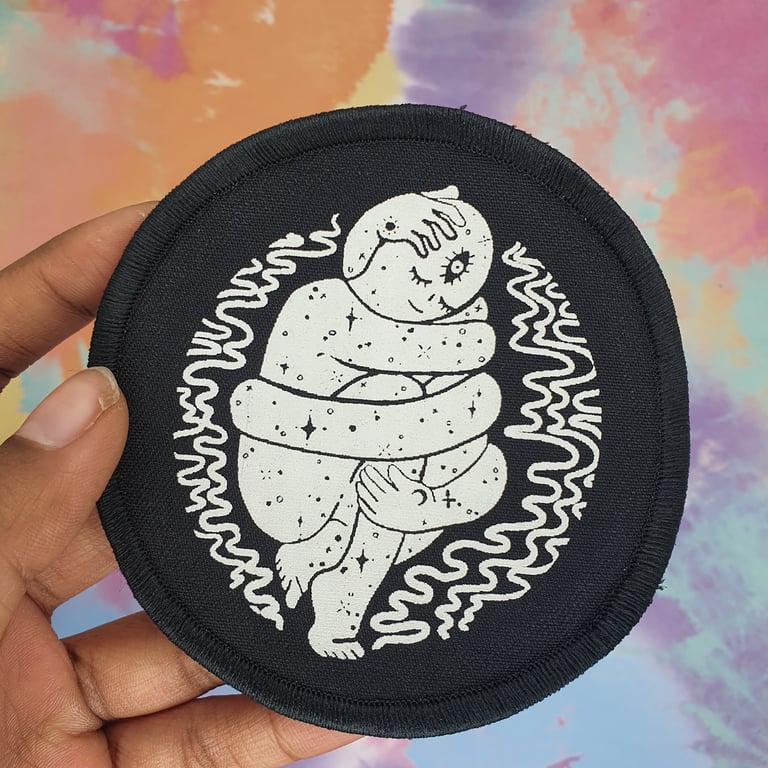 Beloved of the Universe Iron On / Sew On Patch
8.7cm diameter circular patches; screen printed onto black 65% polyester/35% cotton 195gsm fabric and finished with a (removable) heat press backer and overlocked border. the overlocked border (aka merrowed edge), is a type of stitching running through and around the patch, giving protection against fraying. the heat seal backer can be easily peeled up and removed if you do not require it, and the patch can instead be sewn on.
heat application instructions:
1. turn your iron to a heat setting of around 170ºC (DO NOT exceed this temperature or use steam/ironing liquid as this can damage the ink).
2. place your patch in the desired position on to the garment and cover with a clean cloth (DO NOT place iron directly onto patch).
3. press the iron straight down for 10 seconds.
4. turn the garment inside out and repeat step 3 on the reverse.
5. the heatseal film achieves its full adhesive force after 48 hours and will adhere to most fabrics. fabrics containing cotton will have the best results.