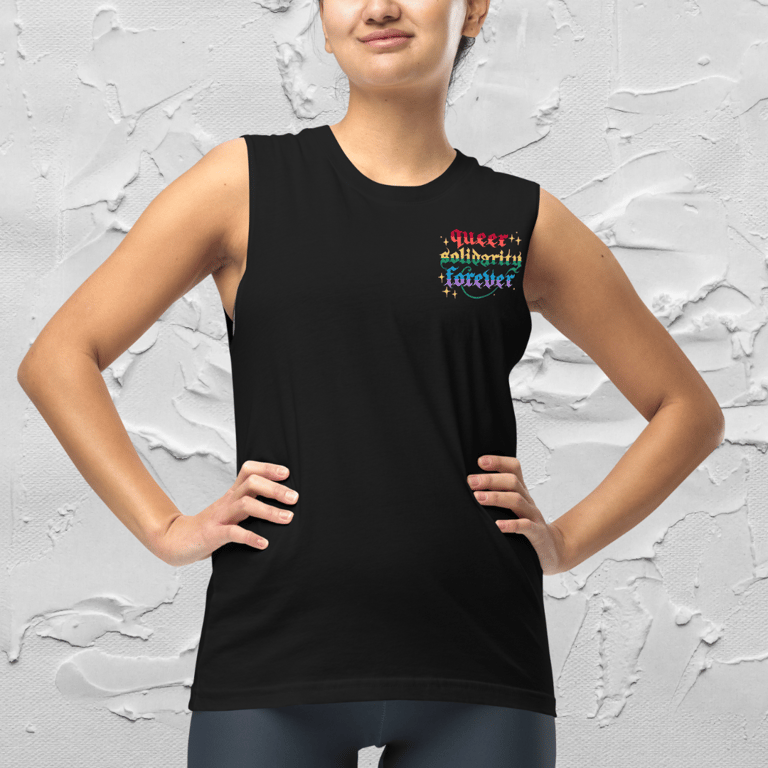 Queer Solidarity Forever Double Printed Unisex Tank
This breezy, unisex fit muscle tank is just so comfortable you're going to want to wear it everywhere! The pocket print on the front reads Queer Solidarity Forever, and the bold back print reads "siblings & lovers! do not despair! you will never be alone! we walk this world together & break our own chains!", and features an image of interlocking venus, mars, transgender and nonbinary symbols. Whether you're lounging on your couch or getting active in the gym, this versatile tank with low-cut armholes creates the perfect casual, sporty look.
• 100% airlume combed ring-spun cotton
• Fabric weight: 4.2 oz/y² (142 g/m²)
• Relaxed fit
• Side-seamed construction
• Wide, low-cut armholes
This product is made especially for you as soon as you place your order, and mailed out through with third-party assistance from national warehouses. Making heavy products to demand helps us reduce overproduction, so thank you for helping us make thoughtful and eco-conscious decisions! For more information on how our apparel is produced, check out our FAQ! Please be aware that apparel items come in different packaging to usual, and will arrive with a discount code in place of a free gift. Non apparel items shipped separately.